In 1902, the largest, fastest sailing ship the world had ever seen was launched. The legendary Preussen dominated the seas, only to be gone in a few short years. Neither before nor since had the world seen such a magnificent sailing ship. Until today…
Influenced by the German tall ship Preussen, which graced the seas for eight years before it was involved in an accident in 1910, the Royal Clipper is a stunning five-masted full-rigged sailing ship.  With her complement of 42 sails, which have a combined area of 56,000 square feet, Royal Clipper stands out amongst her peers in more ways than one.
Heavier, longer and with the ability to carry more passengers than both Star Clipper and Star Flyer this monarchical beauty rises from the waves in majestic fashion and leaves all that sail in her awestruck.
For all the characteristics that she possesses from the grand age of sail, Royal Clipper is as new as tomorrow, and boasts state-of-the-art navigation systems to prove it. She also combines beauty with comfort by offering every onboard luxury you could wish for. For passionate travellers and sail cruising connoisseurs, the 439 foot Royal Clipper offers a sea-going experience like no other; finding an undeniable balance between the grandeur, adventure and tradition of classic sailing and the superb facilities, cabins and conveniences associated with the finest modern yacht.
Royal Clipper carries just 227 guests in luxurious style. An expansive and spacious outdoor environment is achieved through the amble deck space which also includes three inviting swimming pools.
Find your very own world of privacy on one of the hidden balconies on either side of the bow, or go to even further lengths to get the best seat in the house. Passengers are invited to climb the mast (with safety harness provided) and take in the views from the converted crow's nest which not only offers the chance for a brief moment of reflection, but also provides the most unparalleled views of the lands and seas around you.
If you thought the exterior areas were impressive, you will be even more amazed by Royal Clipper's interior spaces. Included in these is a three-deck atrium that enables sunlight to flood into the elegantly appointed, three-tiered dining room; featuring unreserved seating, meticulously prepared cuisine and an easy-going dress code which aims to make everyone feel included.
And if your time isn't taken up by searching out distant lands from the crow's nest or enjoying a lovingly prepared meal in the dining room; you can always take a seat in the observation lounge, find solitude in the library or pamper yourself in the spa and health club, located in the unique Captain Nemo Lounge. Here you will even find underwater glass portholes which mean that even the secrets of the deep are open to those who sail aboard our Royal Clipper cruises.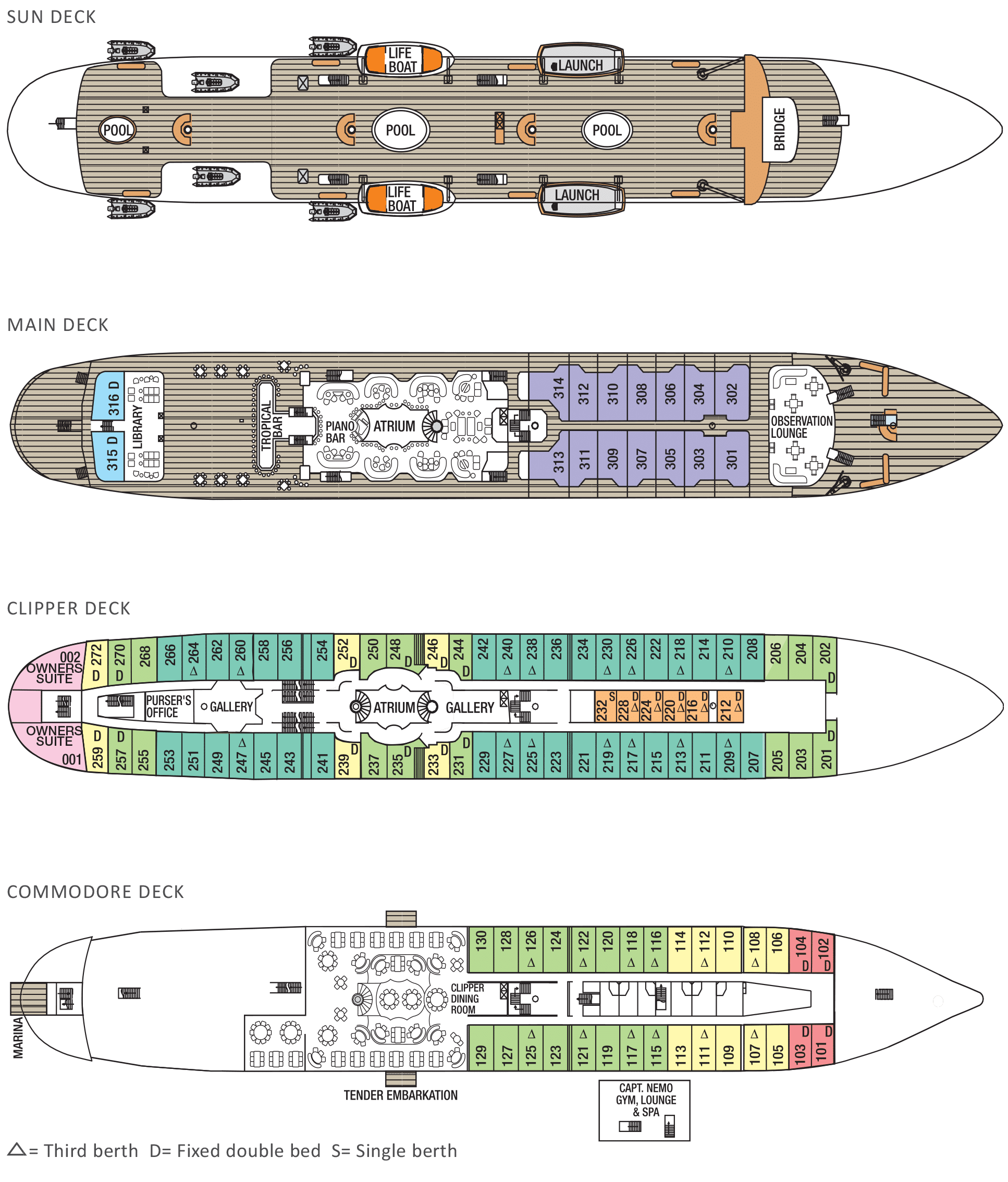 Looking for more information?
You are welcome to pop into our boutique shop on Over High Street, it would be so lovely to see you and our expert team can be on hand to assist you with any travel queries!
To see a selection of our brochures please click here, for any others please get in touch with us below.
Monday - Friday 9:30am - 5:30pm
Saturday - Sunday Closed